"Safe and secure environment featuring light spacious rooms adjoined by two large outdoor play areas and a separate outdoor baby play area"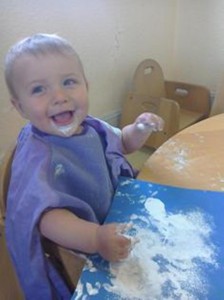 The nursery is housed in a bright attractive building with spacious playrooms in which we are able to create a warm and friendly atmosphere. We take the safety and security of the children very seriously, and the building reflects this with the needs of the children in mind. The off road parking offers safe dropping off and collection times.
The nursery uses both floors of the building with the younger babies being accommodated on the first floor in their won self-contained unit which has access to a dedicated play area outside. Downstairs the three large attractive rooms for our toddlers and older children, all have direct access in to the garden.
Our outdoor areas are fully enclosed and include:
An all-weather area offering an extension of the nursery allowing opportunities to explore our adventure play equipment
A soft all-weather area dedicated to the babies, providing a safe area to crawl, walk and explore
A large rear garden which provides free-flow play and offers endless opportunities for discovery, creativity, imagination and investigation.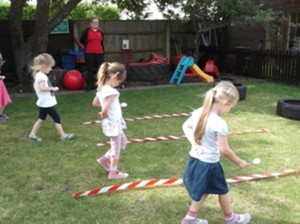 Entry into the nursery is controlled and no unauthorised person is admitted to the premises, all visitors are accompanied at all times and we have procedures in place for the collection of children by an unfamiliar adult.
The nursery operates a no mobile phone policy.